---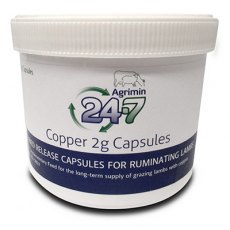 Agrimin 24-7 Copper Lamb 250 pack
Gelatin capsules containing copper, intended for adult sheep (4g capsules) on grass or forage based diets. For situations where soil and forage copper level are low or where known copper antagonists such as molybdenum, iron and sulphur are high. Optimise growth rates Optimise fleece condition Easy to administer Use Agrimin lamb applicator C to administer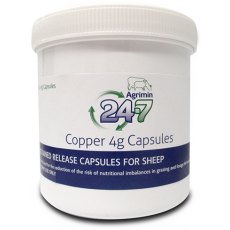 Agrimin 24-7 Copper Sheep 250 pack
Gelatin capsules containing copper, intended for adult sheep (4g capsules) on grass or forage based diets. For situations where soil and forage copper level are low or where known copper antagonists such as molybdenum, iron and sulphur are high. Optimise growth rates Optimise fleece condition Easy to administer Use Sheep applicator B to administer
---
Copinox Copper Ewe and Calf 250 pack
Copinox Ewe/Calf is indicated for the prevention and treatment of hypocuprosis in sheep and calves. A proportion of the administered copper oxide lodges in the abomasum of the treated animal. This provides a sustained-release source of copper for absorption from the gut for 2 to 3 months. This steady supplementation ensures adequate copper status.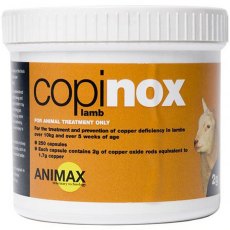 ---
Veticop 20mg/ml Injection 100ml
For the prevention and treatment of copper deficiency (hypocuprosis) in sheep and for the prevention of swayback in lambs by administering a single injection to the ewe 2.5 months pre-lambing.