---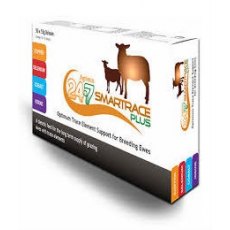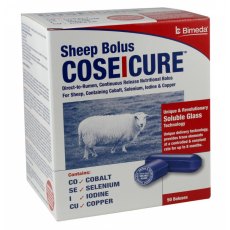 Cose I Cure Sheep Bolus 50 pack
For the supply of copper, cobalt, selenium and iodine in sheep over 30kg. The bolus supplies these trace elements at a controlled and constant rate for up to 8 months. Each bolus contains: 13.4% w/w copper 0.15% w/w selenium 0.5% w/w cobalt 1.0% w/w iodine Benefits: Delivers exactly the same amount of copper, cobalt and selenium every single day, at levels compatiblewith animal's...
---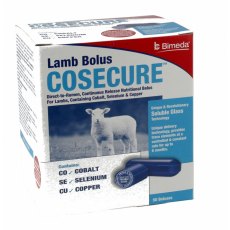 Cosecure Lamb Starter Pack 5 x 50 pack
Starter pack contains 5 x 50packs plus a Bolus Gun. For use in areas of copper and selenium deficiencies and for improvement of cobalt supply in ruminating lambs over 6 weeks of age and weighing under 25kg body weight. For smaller breeds, it may be necessary to wait until lambs are 10 weeks of age
---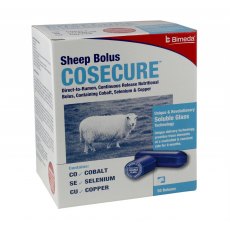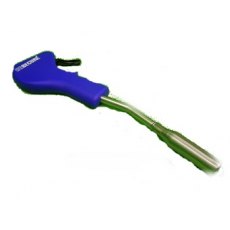 ---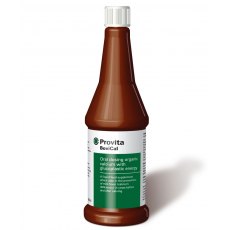 Provita Bovical
An oral liquid supplement to reduce the risk of milk fever in cattle and hypocalcaemia in sheep. In cattle use immediately before or after calving. In sheep use immediately on appearance of hypocalcaemia symptoms. 50mg calcium per 500ml bottle in a unique soft drencing bottle that ensures quick and easy oral application. The calcium is organically bound which ensures it is rapidly absorbed...
Tracesure 3 in 1 Sheep and Lamb 50 pack
Use Tracesure® 3-in-1 Sheep & Lamb with adult sheep when trace element supplementation is indicated and copper is not required. Does not include copper so is suitable for copper sensitive breeds.
---
Tracesure Lamb Finisher 250 pack
A complimentary mineral feed designed to supplement cobalt, selenium and iodine for up to 4 months. (100mg cobalt, 50mg selenium and 214mg iodine per bolus) Each bolus supplies 0.83mg cobalt, 0.4mg selenium and 1.78mg iodine per day.
Tracesure Se/I 250 pack
A complementary feed for calves and sheep designed to supplement iodine and selenium for up to six months
---
Tracesure Sheep Gun
For use with Tracesure Traffic Lights, Tracesure Se/I, Tracesure CO and Tracesure S/C