Bovocycline Pessary 2000mg 10 pack
£89.60
ex VAT
£107.52

inc VAT
Equivalent to
£8.30
per dose
Type: POM-V
PLEASE NOTE: A prescription issued by a UK registered vet (MRCVS) is required before this item can be dispatched.

In stock
Product Description
An intrauterine pessary indicated for treatment and prevention of post parturient disorders in cattle. For administration following
Dystocia (difficult calving)
Retained fetal membranes
Endometritis caused by pathogens susceptible to tetracycline.
Dosage & Administration
Tablet for intrauterine use.
Cows: A dose of 2 g tetracycline hydrochloride per treatment, equivalent to 1 tablet per cow, is to be administered every 24 to 48 hours.
The number of treatments required ranges from 1 to 3. The tablet should not be divided.
It is recommended to remove part of the lochia by rectal massage before treatment.
Before administration, the vulva and perineal area should be carefully washed and disinfected with a non-irritating solution and dried with disposable paper.
Treatment should be accompanied by an improvement in conditions of animal husbandry.
Withdrawals
Cattle:Meat and offal 10 days milk 4 days
Data Sheet
To know more about this product please click on the link below...
Delivery & Returns
Standard

Non-refrigerated items

By 6pm

Priority

Refrigerated items

By 12am

£0 - £149.99

£8

£20

£150 - £299.99

£12

£25

£300 - £449.99

Free

£30

£450 or more

Free

Free
Please note there is a small excess for despatch to Highlands and Islands and Isle of Wight as governed by your postcode.
1. To keep our prices as low as possible, we do not hold stock of most products. We order stock from our wholesaler at 4.30 each day, so any orders received after this time will not be ordered until the following day.
2. Orders placed on a Thursday or Friday that have refrigerated items included will not be dispatched until the following Monday to ensure that the items are delivered to you under controlled conditions. This means that you should receive these items on a Tuesday by 10am.
3. We do not offer a Saturday or Sunday delivery service.
4. Standard and Priority costs apply to the UK mainland only.
Delivery to Scottish Highlands and Islands and Isle of Wight may incur an excess to cover additional carriage costs - this is dependent on your postcode. Full details can be found by clicking the link below.
5. Customers who arrange to collect from Warnham should not arrive before 12pm.
For full delivery details click here
Faulty Goods Returns
In the unlikely event that you receive faulty or damaged goods please call 01306 628215 within 72 hours of receipt of your goods. Please have your order reference to hand. You will be asked to provide evidence of the damaged goods if damaged in transit.
Restricted Goods Returns
We are unable to offer refunds on the following products.
Animal medicines - general & vaccines
Refrigerated/temperature sensitive products
Please contact the Farmacy Team before sending any returns on 01306 628215.
For full returns details click here
Product Species

Cattle
Home Delivery
UK mainland delivery from £8.00
Reward Points
Earn up to 89 reward points with this product.
You may also like...
---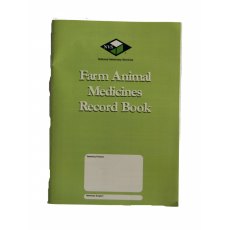 ---